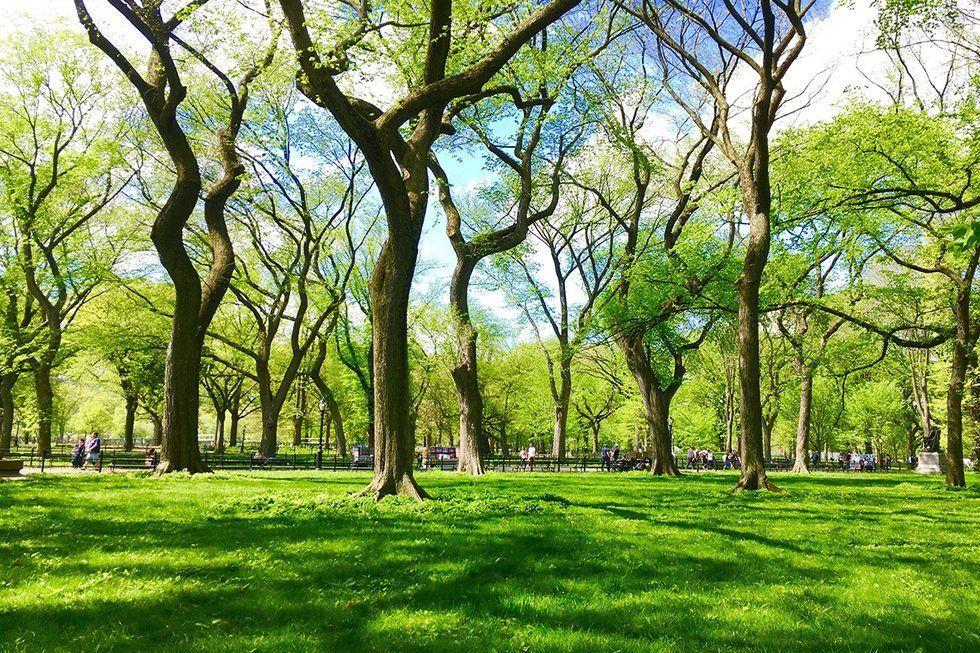 Grassy area in Central Park in the summer
The great outdoors
When the sun is out, there is nothing better than exploring New York City's gorgeous natural outdoor spaces on foot. Start with a trip to lovely Central Park, and don't forget to bring your picnic basket. If you are searching for the perfect spot to enjoy a relaxing afternoon lunch on the grass, try the park's Cherry Hill area, which features a peaceful atmosphere and a terrific view of the lake.
When your muscles need some stretching, an outdoor yoga class in Midtown Manhattan's picturesque Bryant Park is the perfect solution. Classes are typically held on Tuesday mornings and Thursday evenings, depending on the weather. Other popular outdoor activities in NYC include a boat trip on the historic Staten Island Ferry, an energising jog across the Brooklyn Bridge and a leisurely stroll through the beautiful Brooklyn Botanic Garden.
Art and design
Thanks to its size and ethnic diversity, New York City is widely considered to be one of the world's foremost centres for art and visual design. To indulge your love of creative expression, a visit to The Metropolitan Museum of Art is an absolute must. The largest art museum in the United States, the Met, is an essential attraction that every art lover needs to see for themselves.
For something equally colourful but a bit more abstract, the Guggenheim Museum on 5th Avenue is hosting a stunning exhibition devoted to the work of pioneering Swedish artist and mystic Hilma af Klint later this year. If guerrilla art is more your style, then a guided walking tour of the vibrant street murals in Brooklyn's Bushwick Collective will be just what you are looking for.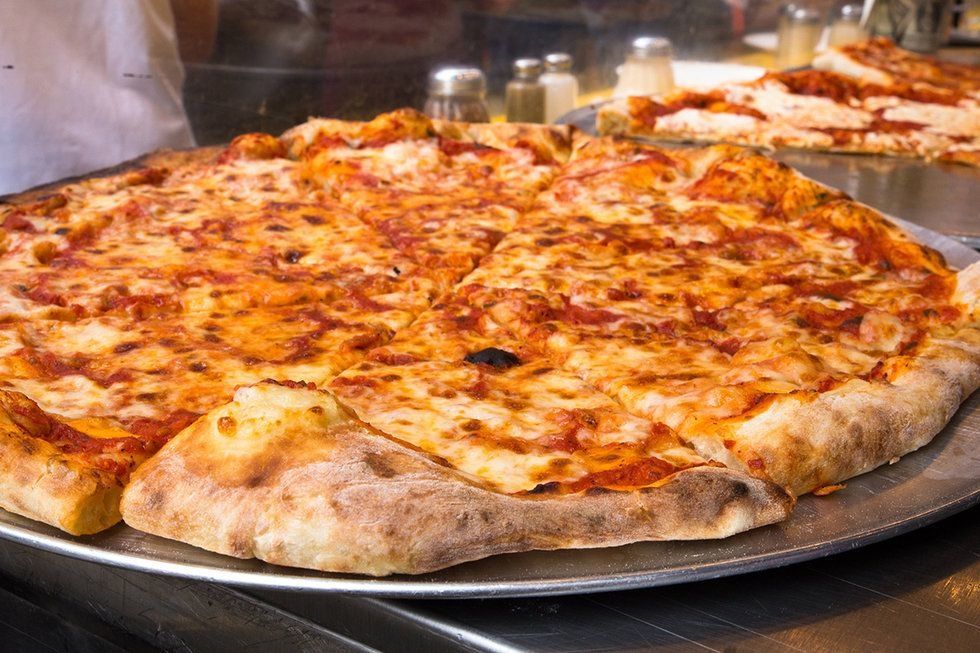 New York style cheese pizza
Food and drink
No matter what type of cuisine you are hungry for, you are guaranteed to find several delicious options everywhere you go. Be sure to make a reservation at the award-winning Gramercy Tavern in the Flatiron District if you are in the mood for a posh spot that serves incredible seasonal dishes like lamb loin and ravioli, and squash salad with lobster and farro.
For a classic slice of New York pizza that Anthony Bourdain called 'the best of the best', look no further than the beloved Di Fara Pizza in Brooklyn. And fans of HBO's 'Sex and the City' will definitely want to order a mini cupcake and a cappuccino at Magnolia Bakery on Bleecker Street where Carrie and Miranda ordered their snacks in season 3 of the series. When you are ready for a perfectly prepared New York cocktail, the expert mixologists at Pegu Club have you covered. Their unique spin on the classic Pisco Punch, made with pineapple-infused brandy, grapefruit and lime syrup, is just the drink you will need to help kick off a night on the town.
Shopping
Whether you prefer cosy boutiques or glamorous department stores, shopping in New York City is a full-time activity. Considering how many world-famous authors hail from the city, it is no surprise that local bookshops continue to attract thousands of shoppers each day. Founded in 1927, the historic Strand Bookstore in the East Village is perhaps the most popular one of all. Featuring three and a half floors of books, both new and used, it is a must-visit destination for readers of all ages.
Treasure-hunters looking to find one-of-a-kind gifts should make plans to explore the open-air Chelsea Flea Market on West 25th Street. One of the city's most beloved places to buy unique antiques, collectibles and vintage clothes, it is also a great spot for people watching.
If money is no object, a day spent shopping in luxury at the impeccable Tiffany & Co. on 5th Avenue is the ultimate way to experience the city. On the other hand, bargain-minded consumers can stretch their travel money by searching the exquisite sale racks at Neiman Marcus Last Call in Brooklyn.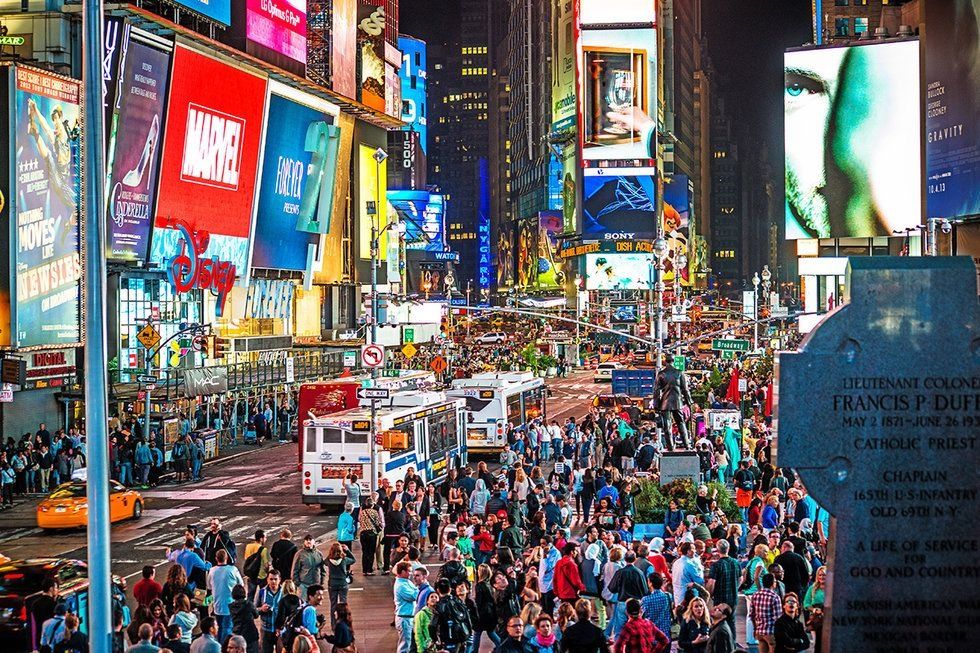 Times Square at night
Live entertainment
Though Los Angeles is correctly referred to as the film capital of the world, New York City is the leader when it comes to virtually all other types of entertainment. Just for laughs, reserve a seat at the Gotham Comedy Club in the Chelsea neighbourhood and prepare to witness some of the funniest stand-up acts you have ever seen. Brilliant comics like John Witherspoon, Janeane Garofalo and Carlos Mencia take the stage during the week, while major headliners like Jerry Seinfeld and Dave Chappelle have been known to stop by unannounced to try out new material.
In a city with dozens of top-notch live music venues, the Beacon Theater on Manhattan's Upper West Side is easily one of the best. What trip to New York is complete without a Broadway play? If you have not planned ahead to get tickets to a theatrical show, don't worry. A quick stop at TKTS Times Square is a great way to find some last-minute Broadway theatre tickets at discounted prices.
If you go
Get the most from your next trip to New York City by booking your tickets at united.com or by using the convenient United app and share your story with #UnitedJourney.