The foodie's guide to Asia
It's impossible to underestimate the enormous cultural significance of food throughout Asia. In many countries across the region, the very first thing you'll notice when you arrive is the complex aroma of commingled spices and the tempting scent of grilled meats and cooking fires wafting through the air. It's enough to make your mouth water, and that's before you've even left the airport. Whether you spend your vacation snacking on the delicious street food that's served on virtually every corner in Thailand, having lunch at a stylish tea and noodle house in Japan or enjoying a banquet at a historic dining palace in China, eating is truly the best way to immerse yourself in the city you're visiting. To give you an idea of what dishes you can't afford to miss, here's a regional guide to some of the top meals in Asia.
Bangkok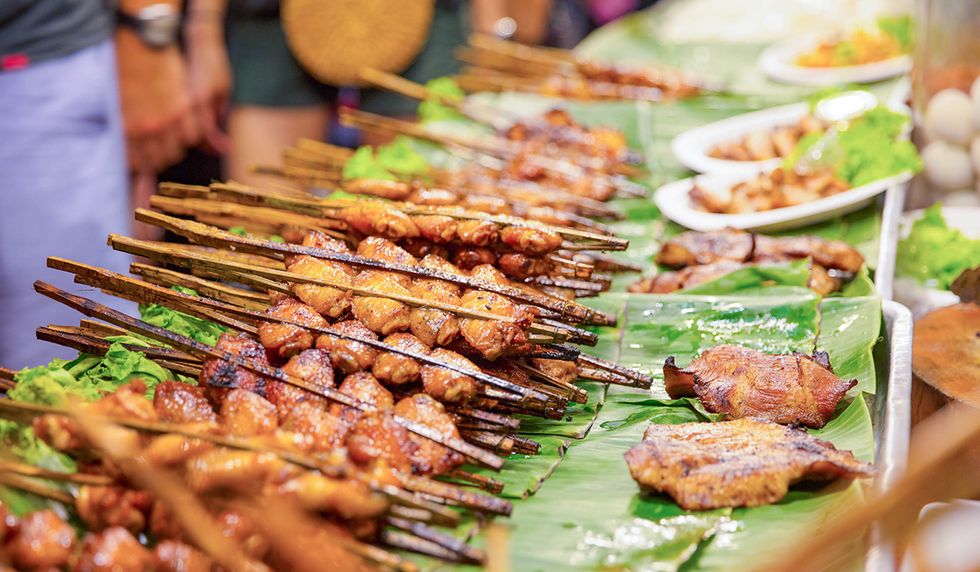 When you hear the word "yum" spoken in English, it's typically an exclamation of foodie pleasure. Curiously enough, it's also a Thai word that refers to the ideal combination of the five main flavors of Asian cuisine: salty, spicy, sour, savory and sweet. To enjoy the perfect balance of yum while in Bangkok, you'll need to order an authentic plate of pad thai and several skewers of grilled satay. Unlike in America where pad thai is usually eaten in sit-down restaurants, in Thailand it's a hugely popular street food, much like satay, that's often enjoyed while standing in front of a cart on the sidewalk. Between these two iconic dishes, you'll taste several of the core ingredients of Thai cooking, namely fish sauce, lime juice, sriracha, curry paste and Thai chilies.
Tokyo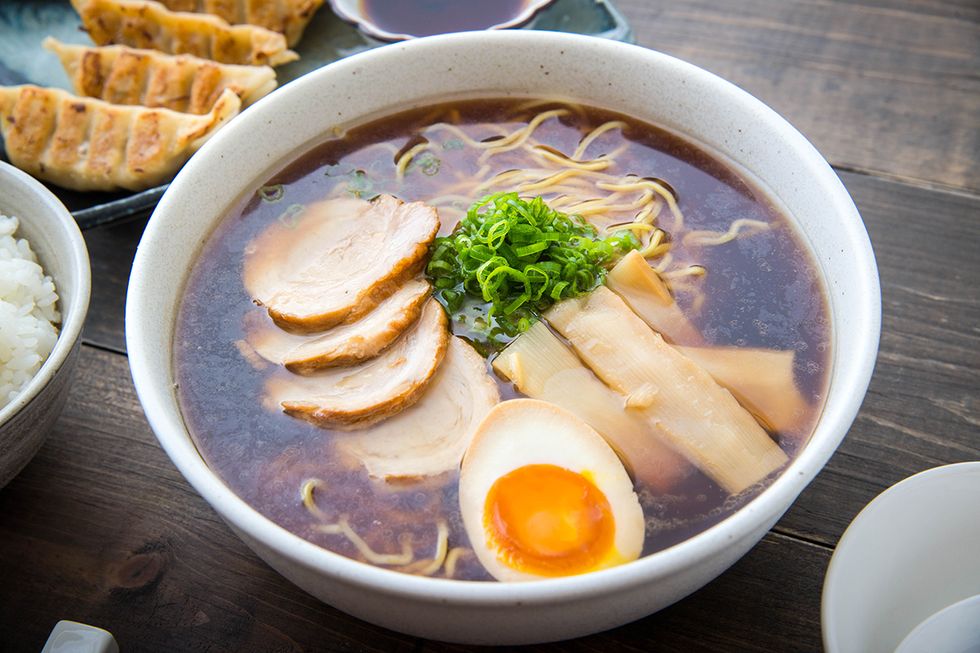 According to most chefs who specialize in Asian food, the central components of Japanese cooking include dashi (a traditional cooking stock), light and dark soy sauce, mirin, sake and miso. Used together in various combinations, these ingredients help form the basis of umami, a description of the savory taste that's become a familiar word around the world in the last decade or so. A great way to experience the essence of umami while in Tokyo is to spend some quality time with a large bowl of ramen. Ramen is at the center of any conversation that deals with Japanese cuisine and is an essential comfort food that's served everywhere — from award-winning restaurants to tiny neighborhood noodle shops. For a luscious bowl of ramen that you'll never forget, make reservations at the Michelin-starred Tsuta Ramen and prepare to launch your taste buds into orbit. But don't fill up on noodles too quickly, because you'll want to save room for an order of okonomiyaki, the savory egg and cabbage pancake that's been called Japan's version of soul food.
Hong Kong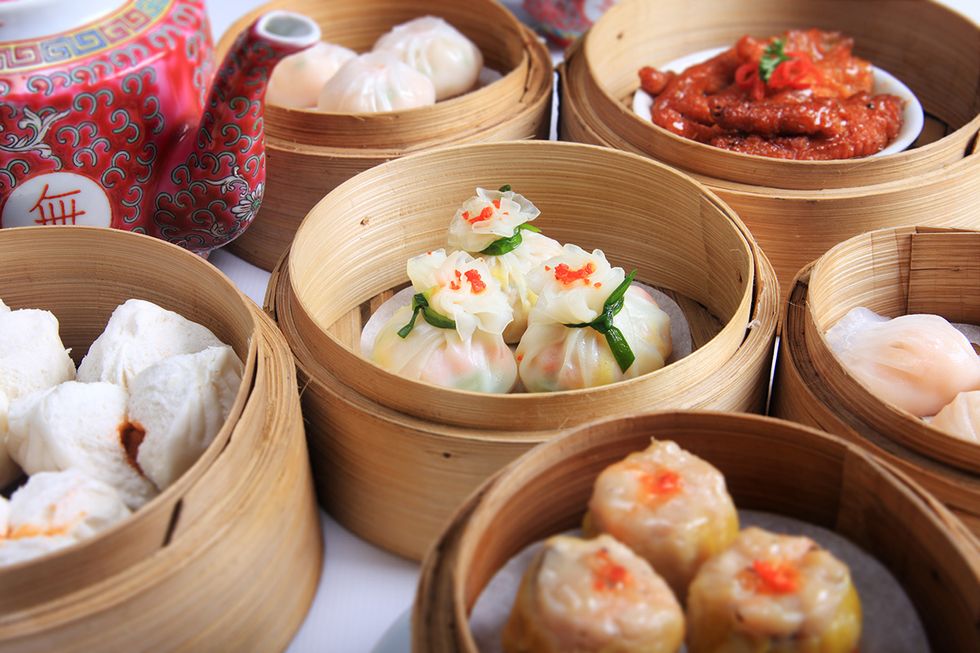 Although authentic Chinese food incorporates a vast variety of ingredients to achieve maximum deliciousness, the fundamental flavors typically rely on elements like oyster sauce, fresh ginger, chili garlic sauce, rice vinegar and hoisin sauce. Each of these flavors can be found somewhere in Hong Kong's quintessential meal: dim sum. Commonly enjoyed in bite-size portions served in steamer baskets or from rolling carts, dim sum is a tradition that dates back to the teahouses of ancient China. Today, the most popular dim sum items include all manner of dumplings, rolls, buns, cakes, meatballs, tarts, spare ribs and puddings. Since taking colorful food photos is an intrinsic part of any modern vacation, plan to eat at Hong Kong's Yum Cha, an acclaimed restaurant that serves Instagram-worthy dim sum treats. Later on, make your way to Yung Kee restaurant for another essential Hong Kong specialty: roast goose. Since 1942, the chefs at this massive four-floor dining palace have been cooking some of the best fowl in the world.
Hanoi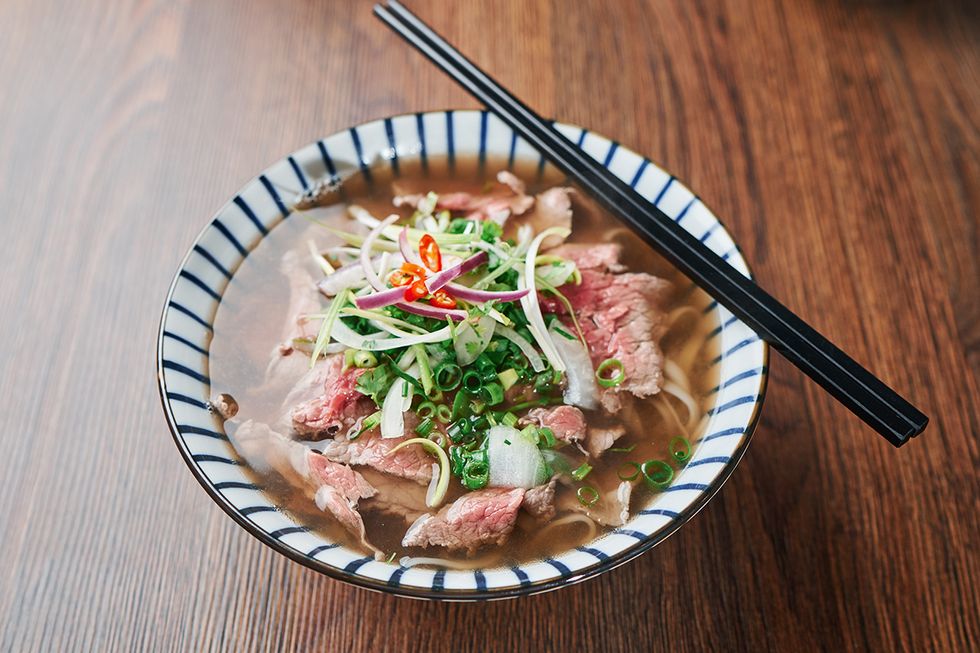 Along with tropical fruits — like papaya, mango, rambutan and durian — and a wide assortment of rice served in various styles, the primary building blocks of Vietnamese cuisine include fish sauce, hoisin sauce and fresh herbs like mint, cilantro, lemongrass and basil. If you'd like to savor several of these intensely flavorful elements on your trip to Hanoi, order a bowl of beef pho with a side of fried spring rolls. The pho's aromatic broth and gently braised meat pairs perfectly with the crunchy rice skin of the rolls, making this an unbeatable combination. You'll find a superb version of it available at Quán Ăn Ngon. For a tasty lunch on the go, grab a duck pâté and egg sandwich from one of the many bánh mì vendors in Hanoi's Old Quarter.
Seoul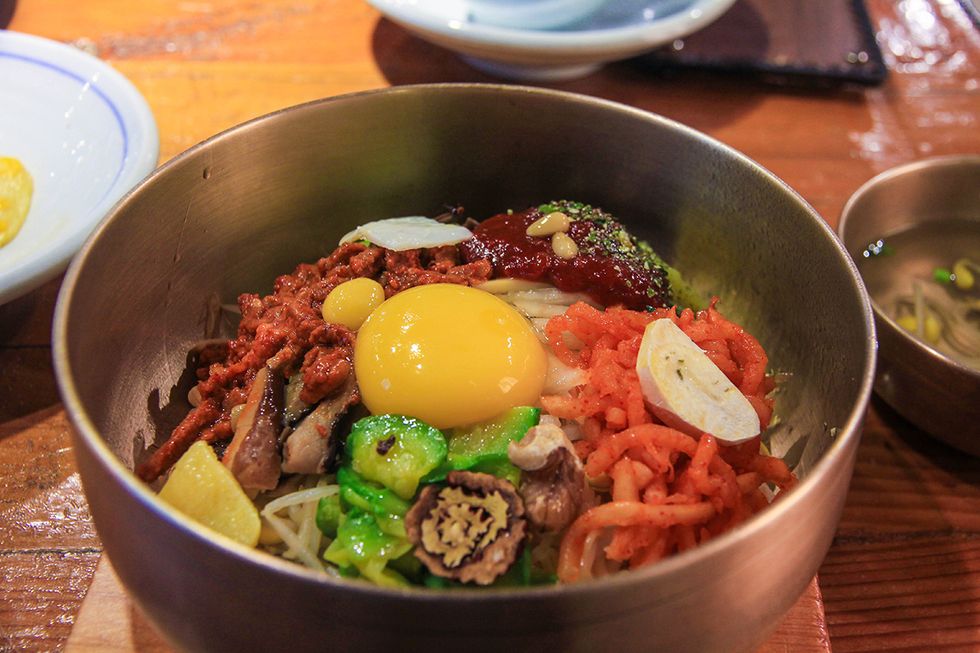 If you're planning a trip to the capitol city of South Korea, it's virtually guaranteed that you're already well acquainted with ingredients like soy sauce, garlic and sesame oil. Gochujang, on the other hand, might not be in your daily food repertoire just yet, but it will be after your visit. A zingy red chili paste made with chili powder, glutinous rice and fermented soybeans — among other things — gochujang's sweet and spicy flavor makes it an excellent condiment to use when you order an enticing combination of barbecued meats that are cooked directly at your table in restaurants throughout Seoul. The second dish that you have to try while traveling in Korea is bibimbap. Served in a heaping bowl, bibimbap typically consists of rice topped with local veggies and loaded with bits of egg and meat slices. Each establishment puts their own unique spin on it, and the bibimbap served at Jeonju Jungang Hoekwan is among the tastiest.
Singapore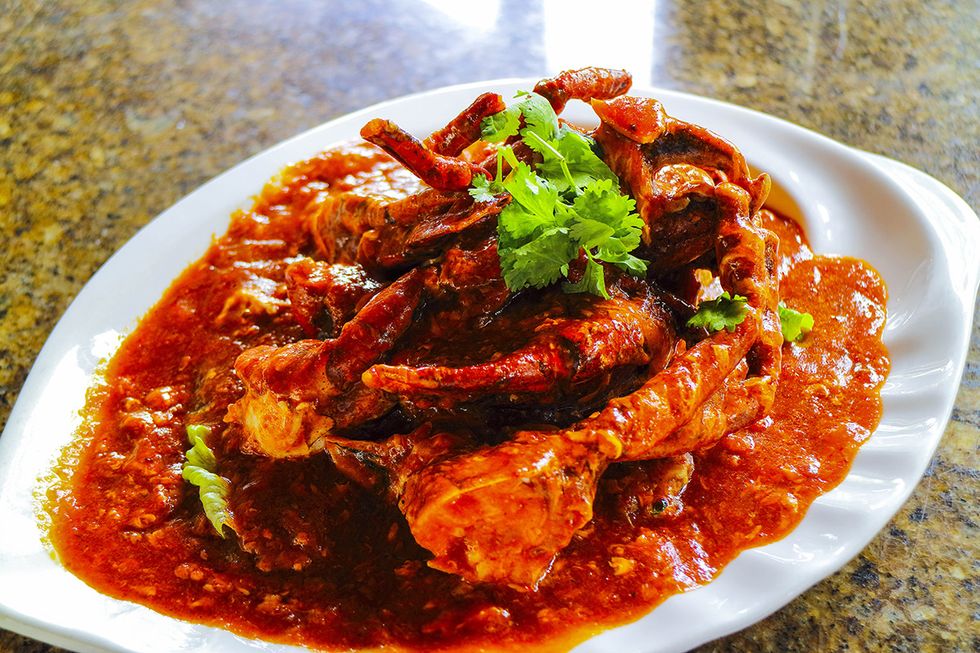 When you find yourself hungry in Singapore, scan the nearest menu and ask for a bowl of laksa and an invigorating seafood dish called chili and garlic crab. Laksa is a comforting noodle soup that's frequently served with chicken, shrimp or fish. Depending on your preference, the base of the soup can be made with either rich curry coconut milk or sour tamarind broth. Laksa occasionally comes with rice rather than noodles, but either way you can't go wrong. If you're averse to intensely hot spices, don't let the name of this dish dissuade you. The tomato-based sauce helps cut down on the heat of the chilies, making this a surprisingly mild treat rather than a spicy one.
Shanghai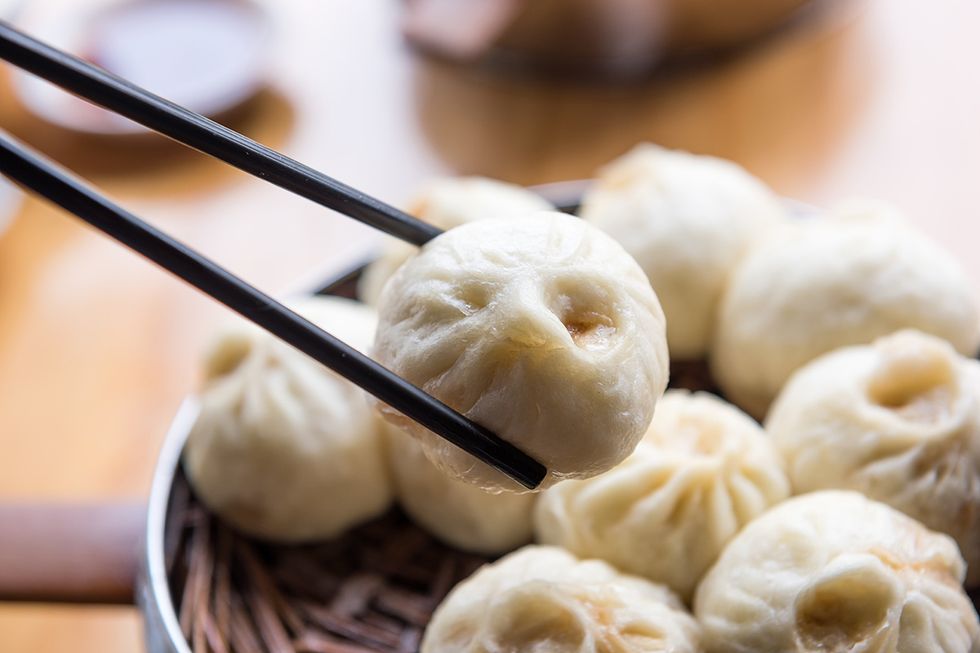 When eating in Shanghai, always keep in mind the four S's: soup dumpling and sweet & sour spareribs. Xiaolongbao — or soup dumplings — are adorable steamed buns that fit perfectly in your mouth and pop with incredibly flavorful broth when you bite down on them. Keep plenty of napkins handy though because they have a tendency to be a bit messy. Save room for other dumplings found throughout the city filled with pork, shrimp, minced crab, veggies or any number of other items. Sweet and sour spareribs with black bean vinegar sauce — a Shanghai specialty — are another wonderful dish to try while exploring the restaurants across China's central coast. When braised to perfection, there's simply nothing better on the menu.
Getting there
Regardless of where you decide to eat in Asia, you can plan your fantastic food tour by visiting united.com, or by using the handy United app to book your tickets.
Carole Cary-Hopson, Newark Liberty International Airport Boeing 737 First Officer, remembers how it felt piloting her first United flight.
"Shivers" she recalled. "I felt as if this is what dreams are made of. Every single time I come to work, I feel that way."
"That way" was 14 years in the making for Carole. "What dreams are made of" dates back to her childhood in Pennsylvania and frequently visiting her grandma's home in south Jersey that was right by the Philadelphia airport.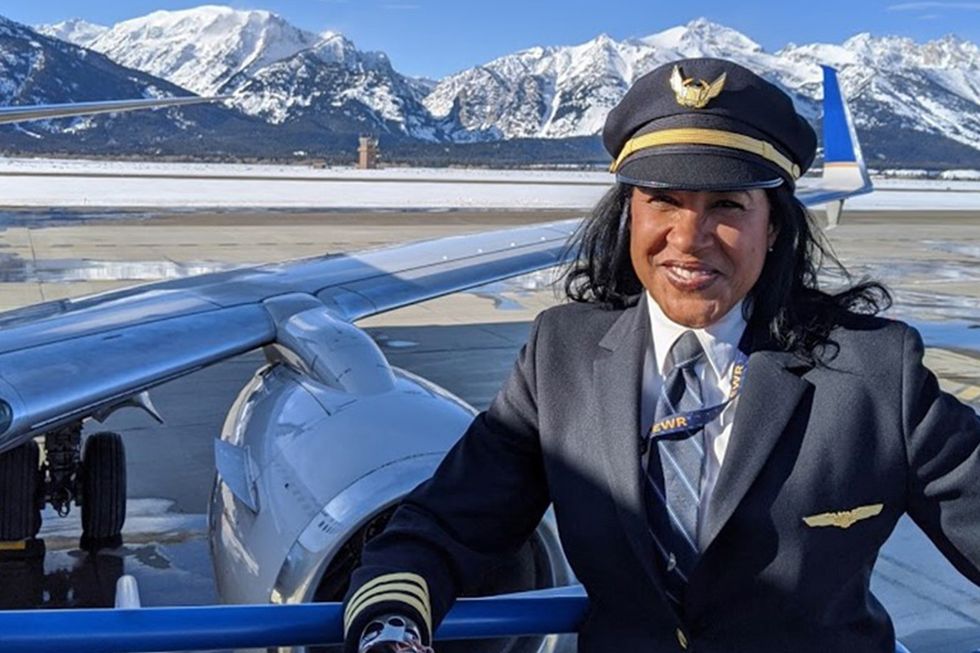 "We would go and lie in the grass by the airport and note the colors of the planes coming in and leaving, how many would come through at a time; we made graphs," said Carole. "I was fascinated by it."

As Carole grew up, she held on to that fascination, but an undergrad and master's degree later, she found herself successfully climbing her way up the corporate ladder, from the NFL to Footlocker. As her duties and roles continued to evolve and grow, Carole observed that she was always on an airplane. In fact, it was on a work trip where that observation and her life-long fascination came full circle.
"I was on a KLM flight and the pilot noticed me looking around and observing everything," she said. "So, he offered me the jumpseat and proceeded to teach me everything across the North Atlantic trip. It was then and there I realized, 'I can do this.' It all came together in my head."
Not long after that flight, Carole went on a date with a man who she now proudly calls her husband.
"I told him on that date, 'I have something to tell you and if you laugh at me about it, I'll never see you again,'" said Carole. Carole proceeded to tell him about her dream of becoming a pilot. A few weeks after that date, he handed her gift certificates to attend a flight school right outside of Manhattan.
From there, Carole moved roles in her corporate career once more, taking a job with L'Oreal where she socked away her paychecks to save up for flight school. In the meantime, she began to network in the aviation world, attending events through Women in Aviation and the Organization of Black Aerospace Professionals (OBAP). It was there she met her mentors, one being American Airlines Captain Jenny Beatty who handed her a mug of Bessie Coleman, the first woman of African-American and Native-American descent to hold a pilot's license.
"I stood on that crowded convention floor with Jenny and Bessie at that time and just bawled," said Carole. "I kept asking myself how I could be an Ivy League graduate and had never heard of her. At that moment, I wanted to do something with her story."
Thus, along with training, becoming a pilot and raising a family, Carole began writing a historical fiction book on Bessie, a woman who had to go to France to learn how to fly because no one would teach her in the U.S. Today, the book is near completion and once finished, 25% of the proceeds will go toward the Lt. Colonel Luke Weathers Flight Academy, an organization within OBAP that aims to grow and diversify the future pilot pipeline.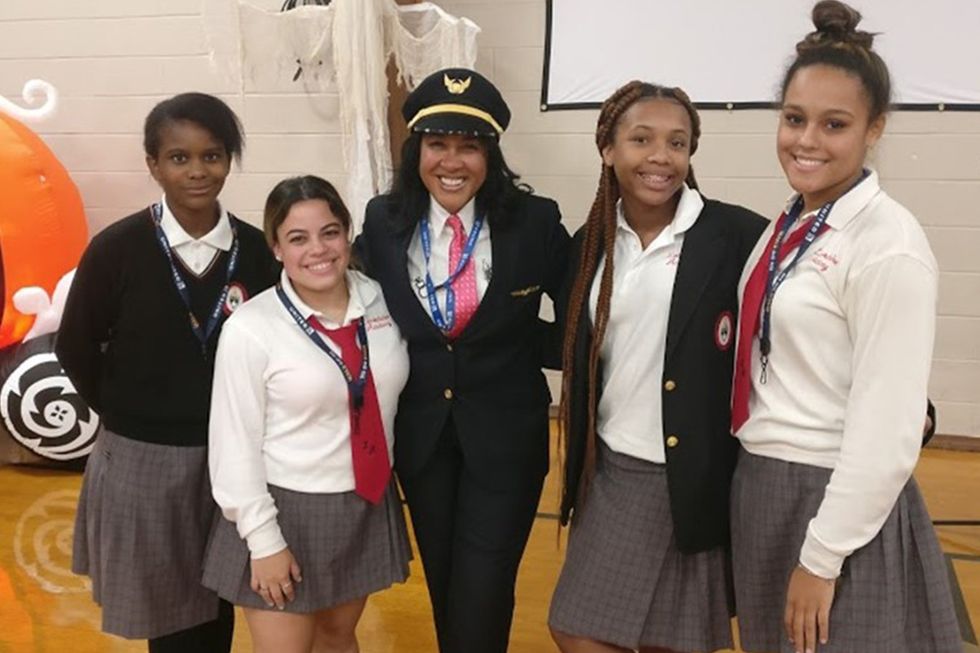 "I hope Bessie is smiling down and has forgiven me for taking so long on writing this book," said Carole. "She continues to provide me with guidance and being an example of determination. I know she would tell me to keep going and to not even dare to stop."

Well, as if Bessie already doesn't know, stopping doesn't seem to be in Carole's vocabulary.
"When you have a goal, there are a series of definitive steps," said Carole. "Each one is important and sometimes, they take many years to reach. But each one of those goals I had in the past were steps that got me to flying."
And Carole's next step?
"Continue to fly and finish Bessie's book," said Carole. "And once the book is finished, the goal is a movie and then sending 100 black women to flight school. With the numbers being only 1-2% African-American's flying, we need to fix that, and I intend to!"
Sisters and United MileagePlus® Premier® 1k members, Kelsey and Courtney Montague, are constantly traveling to create street art pieces for communities around the world. This year they teamed up with us to travel to Peru to explore the beautiful country, and to create a custom mural for a very special group of young women participating in the Peruvian Hearts program. Peruvian Hearts, now part of our Miles on a Mission program, works to support female leaders with access to education, counseling and peer support
Finding tranquility at Machu Picchu
As we hiked up the ancient steps of Machu Picchu, we were surrounded by Incan merchants, servants and townsfolk climbing the stairs to start their day. As foreigners not used to hiking at 7,9000 feet, the locals sprinted by us as we struggled up the steep steps, with the lush rainforest behind us and ancient city just beyond. But even with burning legs and straining lungs, it's likely anyone's breath would be taken away (as ours was) once they reached the clearing above this sprawling city in the clouds. All thoughts of the slightly tortuous route we took to this dazzling ancient city were forgotten the second we laid eyes on this UNESCO World Heritage site.
Along with my sister Kelsey, our Dad and our friend Clay felt the power and mystery when we all arrived at the vantage point over the city of Machu Picchu. The day before we had traveled all day from Denver flying in United's stunning United Polaris®. We slept fully flat on two excellent flights, curled up on down pillows and wrapped in Saks Fifth Avenue comforters. We slept soundly after feasting on steak and chocolate sundaes and spent a layover chatting with bartender, Steven, as he made us cosmos at the United Polaris lounge in Houston. It was wonderful, but the best part? Arriving in Peru so rested and relaxed we were able to completely savor this moment at Machu Picchu. A moment only made sweeter when our Dad turned to us and thanked us for taking him on the trip of a lifetime and giving him the opportunity to see a place he never thought he'd get to visit.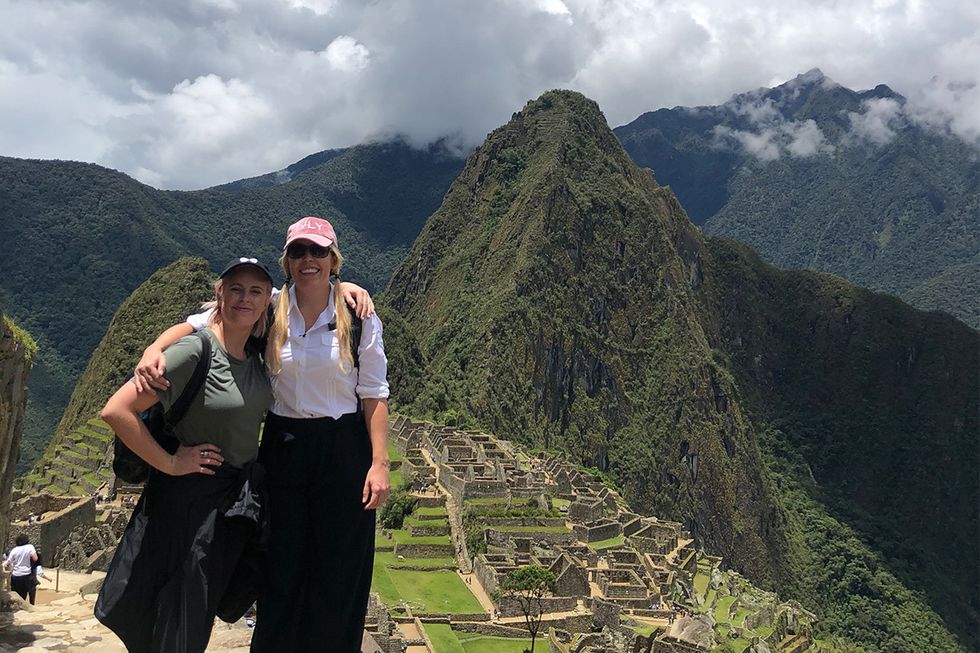 We explore the ruins with the wide eyes of children, enjoying every view and savoring every piece of information from our guide. Llamas 'own' the ruins and gently nudge tourists aside as they scamper between buildings to their favorite pasture. The terraces on the outskirts of the town were used to prevent soil erosion and to farm maize and beans. Condors soar above our heads, their keen eyes hunting for chinchillas tucked into the terrace rock walls.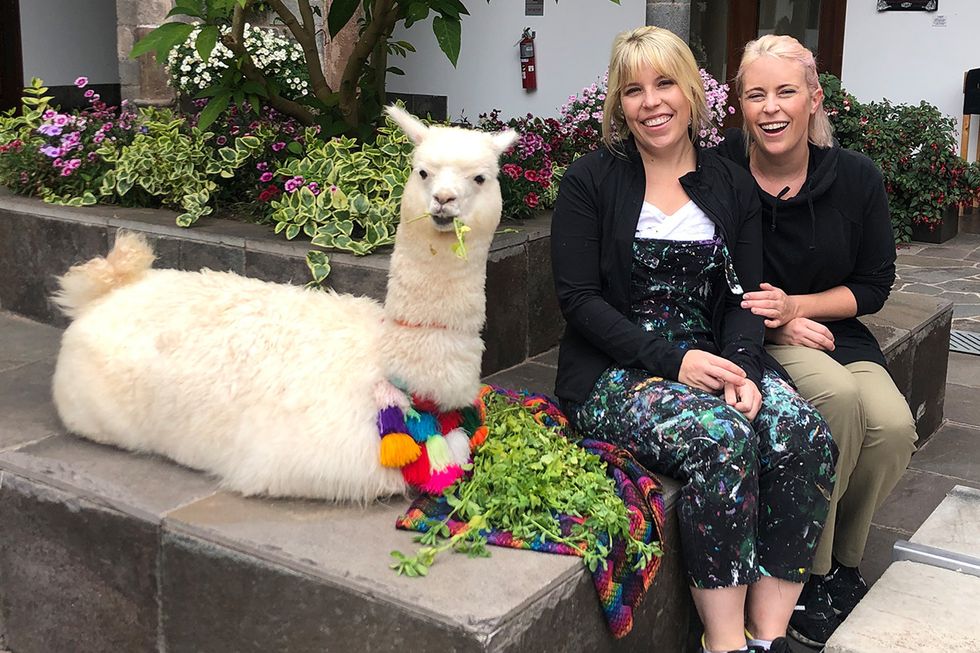 Incan community members that lived or worked in Machu Picchu must have felt the same way we felt the first time they came across this thriving metropolis, situated on top of a mountain. Incan urban planners neatly organized centers for astrological studies, religious ceremonies, sports, commerce and farming. The buildings were built from granite and limestone, likely from a quarry located on the same mountaintop. Some buildings were so finely constructed scientists still don't quite know how the Incans did it.

At the end of the tour we come to the sacred rock — a perfect, flat replica of the Yanantin mountain behind it. Some mystical members of society believe that touching the rock transmits tremendous power. I won't lie that I quietly let my fingers graze the stone as a I walked by. Did I feel a sudden power rush? No. But did I leave Machu Picchu filled with a sense of wonder and a reaffirmed belief that anything is possible? Yes.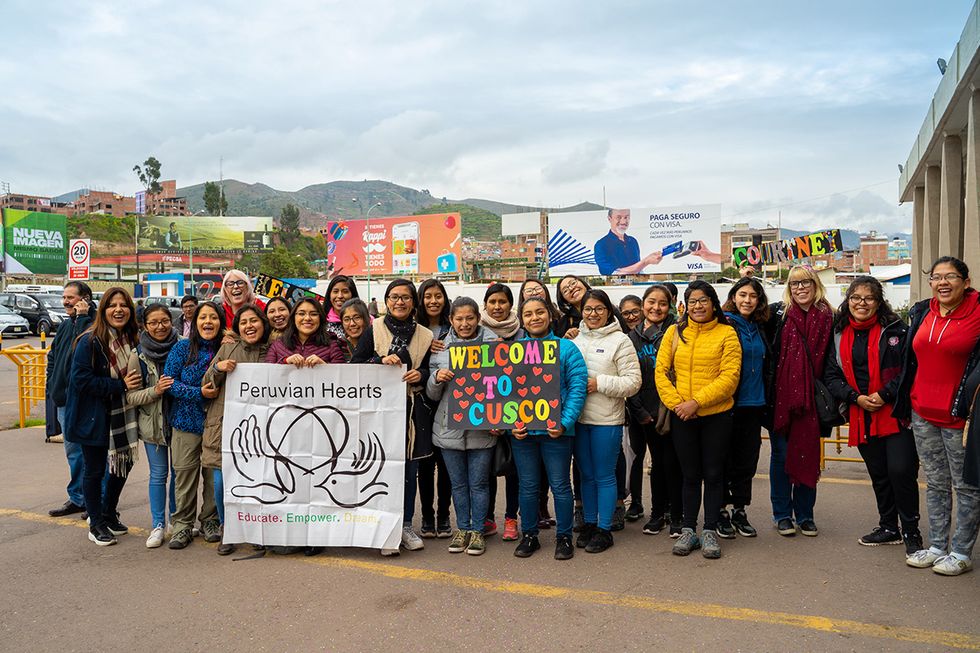 Partnering with Peruvian Hearts

The next morning, we awoke ready to tackle the most meaningful part of our trip to Peru — working with Peruvian Hearts.
Peruvian Hearts works to support women by giving them access to education, counseling and peer support. They are currently working with 32 talented, bright young women who they have hand-picked from secondary institutions across Cusco. They focus on supporting brilliant engineers, psychologists, teachers, scientists and doctors. These are the future female leaders that will change their communities, their country and the world for the better.
When we arrive to meet these scholars, they cheer, and each young woman gives Kelsey and me a hug. Overwhelmed, we both begin to cry. We are so grateful for our job as a traveling street art team, but we are on the road so much we are often very lonely. We can't remember the last time we received so many hugs or saw so many bright smiles.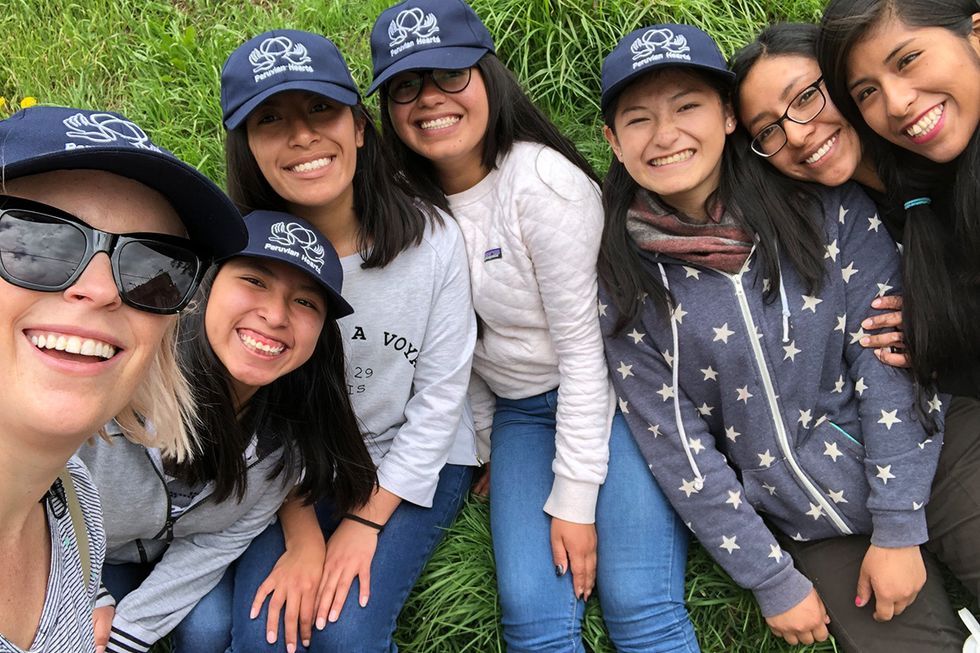 When we arrive to the Peruvian Hearts headquarters a number of the young women tell us how they found Peruvian Hearts. Aldi, a brilliant engineer in training, was asked to join this special organization because she was first in her class in secondary school. She grew up in tough financial circumstances — her mother is ill and unable to work, and her father works in construction. As the only person in her family who has attended university, she is the primary hope of her family. Tears stream down her face as she describes how tough it has been for her family to survive. So many of these young women tell similar stories and carry the weight of their entire family's future squarely and proudly on their shoulders.

These stories reaffirm the reason Kelsey and I decided to join forces with United — we hope to make that weight on their shoulders a little lighter. As we worked on the mock-up for the mural to commemorate Peruvian Hearts, United decided to help in another way by including Peruvian Hearts in their new Miles on a Mission program. A first of its kind program, United MileagePlus members can now donate their miles to nonprofits they care about. Miles that will help young women like Aldi attend conferences in the United States or study abroad in Mexico.
Other women will be able to travel more freely between their studies in Lima and their families in Cusco. The young scholars were so excited to now be part of the United family and to have access to the connections a major airline can bring.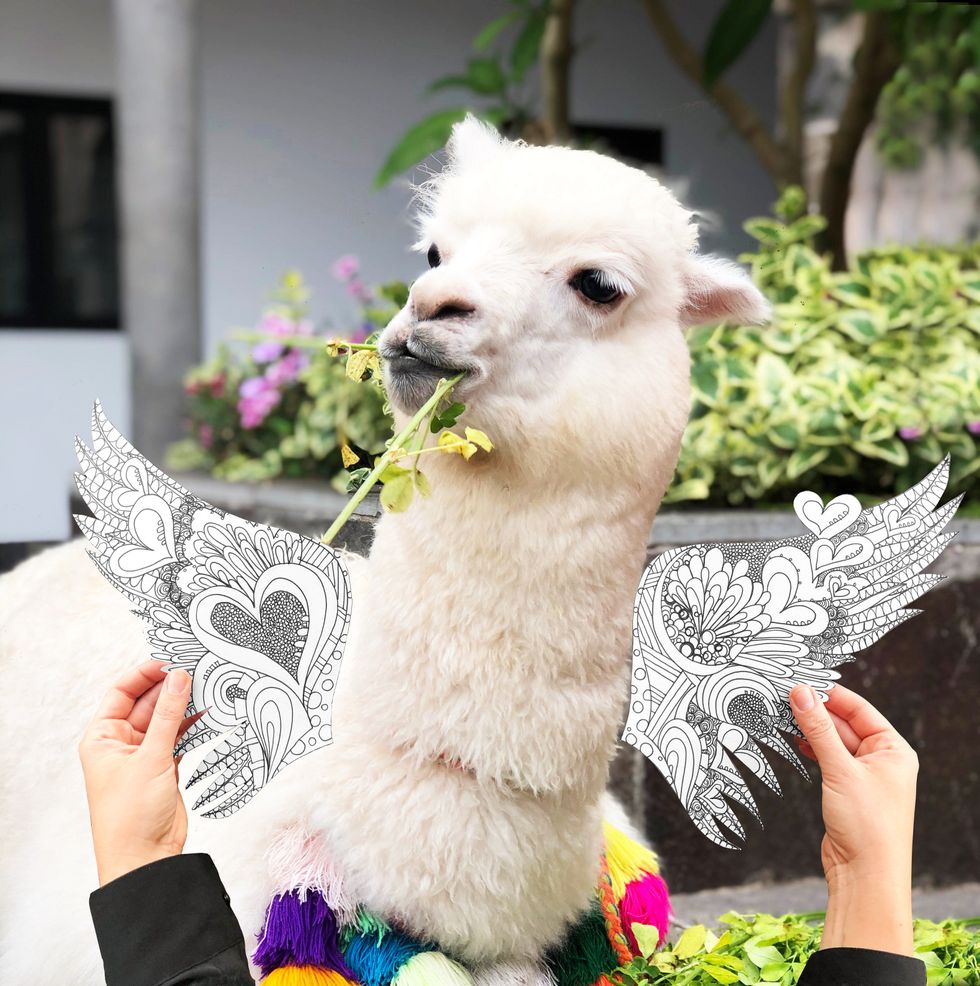 After an ideation period Kelsey decided to create a large-scale heart flock mural with 32 hearts on one side to represent the young women in the program and 32 hearts on the other side to represent those to come. Over two days we painted the piece and filled it with items that represent Peru (a llama, a condor, Peru's national flower and butterflies), Peruvian Hearts (pencils, books, and a shooting star) and a United airplane. As we worked on the piece the ladies sang, danced and told us their dreams. Dreams to travel, learn new languages, start meaningful careers and change their communities for the better.

When we finished the piece — two massive streams of hearts that appear to be coming from the person standing in the middle of the mural — the girls came to thank us. With cheers, hugs and kisses they explained how proud they were that this mural was for them and how it would continue to lift them up as they work hard to improve their circumstances.
At the end of this project Kelsey and I felt so blessed to be connected to such a wonderful group of women. At that moment we realized that is what art and travel should be about. Art and travel should connect us to each other as humans and to something deeper within ourselves — a desire to lift each other up.
Visit United's
Miles on a Mission program
to support Peruvian Hearts .
February 12, 2020
As we continue to evaluate our operation between our U.S. airport hub locations and Beijing, Chengdu, and Shanghai as well as Hong Kong, we have decided to extend the suspension of those flights until April 24. We will continue to monitor the situation and will evaluate our schedule as we remain in close contact with the CDC and other public health experts around the globe.
We suspend travel to Hong Kong
February 4, 2020
In response to the continued drop in demand, we are suspending travel to Hong Kong beginning February 8 until February 20. Our last flights will depart San Francisco on February 5 (flight 877 and flight 869) and the last returning flight will depart Hong Kong on February 7 (flight 862).
Please check united.com for important travel information as well as current travel waivers.

Scroll to top